AEK UDON INTERNATIONAL HOSPITAL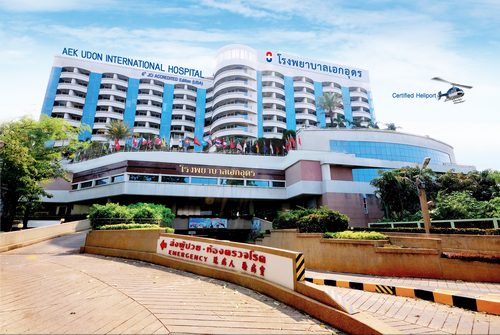 Aek udon international hospital has won many outstanding national awards such as:
- Texpayer Recognition award for the year 2012 by the Revenue Department, Ministry of Finance
- "The Corporate Governance Excellence Award for the year 2012" reward for honesty, morality and transparency by the National Anti-Corruption Commission.
- "The DBD Corporate Governance Award for the year 2012" reward for the business which operates with integrity, transparency and fairness to the principles of good governance by the Department of Business Development, Ministry of Commerce.
- Star of Diamond Award for Excellence in Medical Laboratory Quality from the Department of Medical Sciences, Ministry of Public Health.
- Aek Udon International Hospital is locates in the heart of Udonthani, and comprised of 2 buildings:
- Building A was designed to serve as administrative and medical facilities. A standard certified heliport is on the roof deck of the building.
- Building B was designed to be apartments and an indoor parking lot, capable of accommodating as many as 800 car.
Aek Udon International Hospital operates with the highest technology equipment, available more than 40 medical specialists and more than 50 consultants are on site to provide 24 hour emergency care & management.
- Medicine
- Chest and Lung disease center
- Cardiology
- Gastroenterology center providing esophagogastroduodenoscopy and colonoscopy
- Neuromedicine center
- Nephrology and Urology
- Infectious Medicine center
- Obstetrics & Gynecology providing 4D ultrasound which can clearly show the baby features.
- Pediatric Dept. with a Pediatrian on site 24 hours
- General Surgery facilities
- Orthopedics and Spine center
- Plastic Surgery
- Ophthalmology staffed by sub specialists able to diagnose eye problems and to measure and prescribe corrective lens.
- Ear, Nose, Throat and Allergy center equipped with latest ENT Endoscopic equipment.
- A diagnostic radiology center equipped with the most advanced Medical Imaging facilities in the upper part of Isaan such as:
- MRI: Magnetic resonance imagining
-CT scan 64 slices
-Digital Mammogram
-Bone Density measuring bone mineral density
-Ultrasound 4D
-The latest exercise stress test machines to help diagnose coronary artery diease
-Color Doppler Ultrasound
- Dental Center staffed by Specialists
- Skin and Beauty center
- Checkup center providing health services under the guidance of a medical expert and providing medical check-ups to the applicants for working abroad, international immigration and for insurance purpose.
- Intensive Care Unit that is well equipped with the highest standard life saving equipment to provide medical treatment to critically ill patient. An isolation room is also available.
- Operating Room, fully equipped with high efficiency antiseptic equipment, laparoscopic instrumentation and equipped for microscopic surgery.
- Hemodialysis Department using the most modern equipment called CRRP, continuous renal replacement therapy for patients with acute renal folium.
- Obstetrics and Gynecology Department: a modern, hygienic facility containing the most comfortable electrically controlled labor bed.
- Nursery Department staffed 24 hours with pediatric doctors and nurses with incubator, respirators Billy blanket therapy and transportation incubators.
- Laboratory
- Physical therapy Department
- Emergency Department well equipped and capable of handling large scale accidents.
- In-patient Department with comfortable, safe and medically well-equipped rooms.
- Pharmacy Department staffed 24 hours and with over 200 medications.
- International Service Department providing support to international customers. We are experienced in dealing with all major insurance and emergency assistance companies, and have a close relationship with all embassies and insurance and international businesses.
- Krua Charoen Restaurant Other conveniences and facilities available on the premises are:
- Free 24 hour WIFI internet service
- Aek udon Apartment
- Extension Vehicle registration by Udon Thani Provincial Land Transport office providing international driver licenses.
- Viriya Insurance office
- A Coffee shop, Mini-mart, Baby connections, Laundry and Beauty salon Aek Udon International Hospital is committed to provide quality health care carried out with compassion and meeting the highest standards of professional care and ethical excellence, the normal standards of professional care and ethics.